And then there were two: The Children's Programmable Medicine Initiative and AI Portraits. The Championship of HUB Madness 2019 presented by BNY Mellon has been weeks and thousands of votes in the making, and you — the voters — have played an integral role every step of the way. So, are you ready to crown a HUB Madness champion?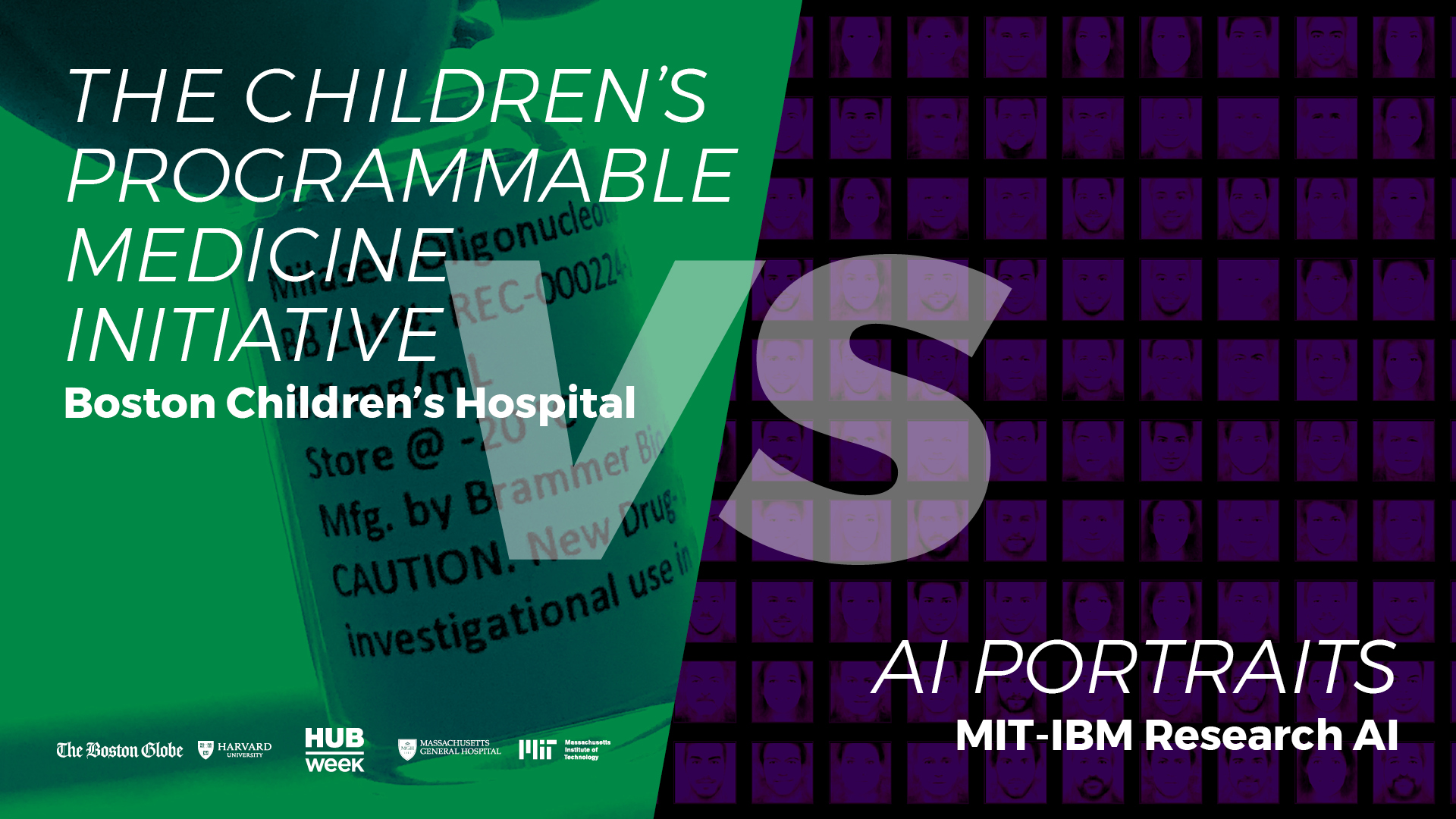 The Children's Programmable Medicine Initiative, Boston Children's Hospital
Did you know that rare genetic diseases disproportionately affect children? Because we don't have treatments for the vast majority of these diseases, three in ten afflicted children won't live to see their fifth birthday. Boston Children's Hospital is working to change this statistic. The Children's Programmable Medicine Initiative offers tailor-made treatments — individualized medicines — to help these vulnerable patients. In 2018, the hospital designed and manufactured a brand new drug to treat Mila, an eight-year old girl diagnosed with the ultra-rare childhood disorder Batten disease. The drug was manufactured, customized to Mila's unique genetic mutation, tested in her own cells, and used to treat her, all within one year. The initiative is a milestone in science: "We are designing and manufacturing entirely brand new medicines for each patient, based on their genetic code. These are the world's first examples of truly personalized medicines," says Dr. Timothy Yu, lead researcher.
Read our interview with Dr. Yu and learn more about The Children's Programmable Medicine Initiative now.
AI Portraits, MIT-IBM Research AI
Have you ever wondered what a "celebrity" version of you would look like? Well, wonder no more, thanks to AI Portraits. The project is a website and research project created by Northeastern researchers Mauro Martino and Luca Stornaiuolo. The researchers used millions of photos of actors and actresses to train the AI, so users just upload a photo of themselves and the AI, using what it understands about faces, will create a "celebrity" version of you. The images generated by the AI examine the concept of identity, allowing us to share the experience of being portrayed by an algorithm and discovering how an AI sees us. Lead researcher Martino shares the cultural significance of the project: "Whenever we have a change in our visual and aesthetic codes, whenever we have a technological advancement, the first repercussions are reflected in the style and technique of portraits. The portrait becomes a barometer that we use to test the aesthetic taste of the times."
Read our interview with Martino and learn more about AI Portraits now.
Now that you've met the final two projects in the Championship of HUB Madness, make sure to cast your vote now! Voting ends at 11:59pm EST on Wednesday, April 17 and the champion will be announced on Thursday, April 18.