2018 was an amazing year for the arts in Greater Boston. There were so many cool projects, exciting public commissions, new arts venues, and significant exhibitions and performances that showcased artists and ideas overdue for critical acclaim.
We feel inspired and proud to be a part of such a vibrant arts community, and want to celebrate the artists and institutions who represent the best of Greater Boston's creative ecosystem. So, we decided to hand out some awards...
This year's HUBweek Art Awards will recognize 39 projects in 10 categories, from innovative art spaces to provocative performance art to fresh new murals. Nominated and voted on by the Greater Boston arts community, the nominees showcase the vibrancy of this region. Stay tuned for the announcement of this year's winners on February 25, 2019!

Get to know the nominees for Provocative Performance Art below, and see all nominees here.
Bashezo, Space With Those Without Names, CASTLEDRONE
Representing the transformations that we and our spiritual counterpoints go through on either side of a thin metaphysical veil, "Space With Those Without Names", is a participatory landscape that gives image to co-presence. Death, blackness, and transfiguration continue to recirculate in the artists' work. They inverted CASTLEDRONE visually into a layered, blackened space meant to be navigated. "A cartesian experience doesn't exist in my experience" Bashezo describes when considering the role of pathways in their work, "I want to explore how the audience can be negotiated, as part of the installation."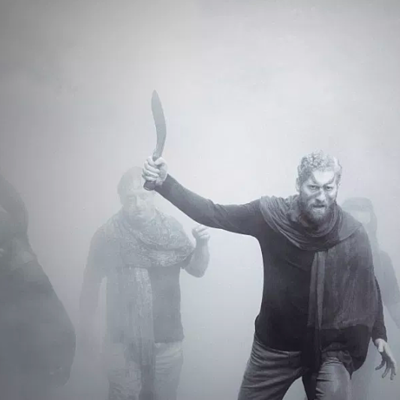 Various artists, Fog x FLO performances, The Emerald Necklace Conservancy
Artist Fujiko Nakaya calls fog "the most generous medium," as its dynamic permeable form allows for limitless interaction, and collaboration, with others. For five decades, she has partnered with choreographers and dancers, composers, musicians and sound artists, light and projection artists, and visual artists and designers of ranging disciplines to create dialogues with her work as "fog performances." Throughout the summer and fall, artists and performers used Nakaya's sculptures as a unique backdrop for a diverse range of programs that took place throughout the park system.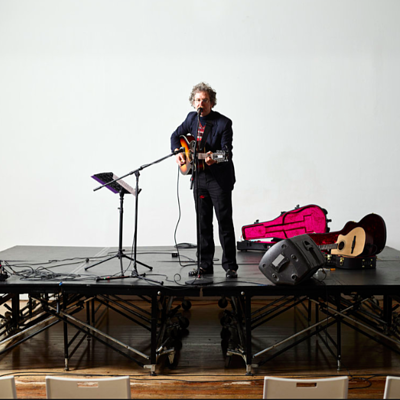 Martin Creed, Words and Music, Peabody Essex Museum at the Boston Center for the Arts
In conjunction with the PlayTime exhibition at The Peabody Essex Museum, Creed performed Words and Music (2) at the BCA. The quirky, highly engaging evening included the premier of Work No. 2890: Bum Piano, performed by the composer. It was an extraordinary encounter between artist and audience: a bit contemporary music hall, a bit art lecture, shot through with Creed's renowned wit and absurdity, and delivered in his own highly original style.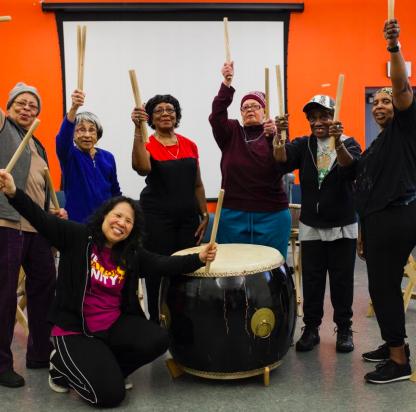 Karen Young, Older and Bolder, Grove Hall Senior Center
Older and Bolder is an elder voice project designed to engage, empower, and make elders of color visible in Boston. Developed out of the Boston Artist-in-Residence Program (Boston AIR) and based at BCYF Grove Hall Senior Center, Older and Bolder utilized Japanese taiko drumming as a vehicle to command space and attention. Working with Age-Friendly Boston, one of the initiative's key achievements was partnering on an event to bring awareness to a dangerous crosswalk where cars would not yield to pedestrians.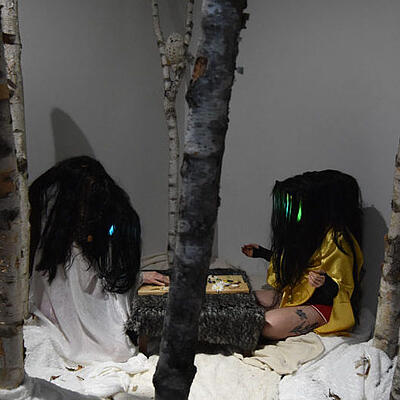 Photo credit: gregcookland.com/wonderland
Smolnikova + Williams, Rainbow Collapse, Boston Center for the Arts
Step into a brave new world in Rainbow Collapse, where artists Smolnikova + Williams imagine how a dystopian utopia might grow from the ashes of a complete societal and environmental collapse. Both darkly foreboding and hopeful at the same time, this self-determined experience features a birch forest, a pyramid of television sets, and an opportunity to read from the book of senses.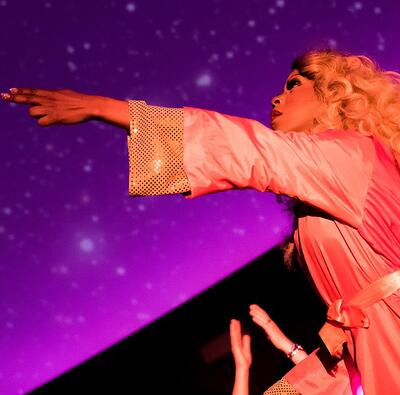 Coleslaw's Corner, Boston's Best Drag Queens, Museum of Science Boston
Boston's Best Drag Queens took Boston nightlife (and HUBweek) to exciting new levels in 2018, taking over the Museum of Science with a groundbreaking lineup of drag performances paired with full dome immersive projections in the Charles Hayden Planetarium.