2018 was an amazing year for the arts in Greater Boston. There were so many cool projects, exciting public commissions, new arts venues, and significant exhibitions and performances that showcased artists and ideas overdue for critical acclaim.
We feel inspired and proud to be a part of such a vibrant arts community, and want to celebrate the artists and institutions who represent the best of Greater Boston's creative ecosystem. So, we decided to hand out some awards...
This year's HUBweek Art Awards will recognize 39 projects in 10 categories, from innovative art spaces to provocative performance art to fresh new murals. Nominated and voted on by the Greater Boston arts community, the nominees showcase the vibrancy of this region. Stay tuned for the announcement of this year's winners on February 25, 2019!
Get to know the nominees for Impactful Public Art below, and see all nominees here.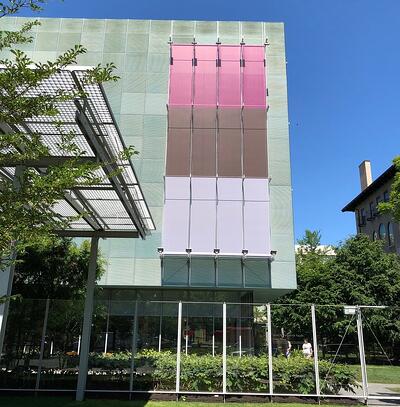 Steve Locke, Three Deliberate Grays For Freddie (A Memorial For Freddie Gray), Isabella Stewart Gardner Museum
For his façade installation at the Isabella Stewart Gardner Museum, Locke painted an abstract portrait of Gray, a 25-year-old Black American man, whose untimely death after being in Baltimore Police custody in 2015 aggravated long-standing racial tensions in the city and sparked street protests, police clashes, and violence. Locke generated three distinct monochromes by averaging the pixels of three individual photos of Gray that were frequently used in the media. The resulting colors form a timeline of the life, suffering, and death of Freddie Gray. The piece powerfully addresses issues of race and violence in America today.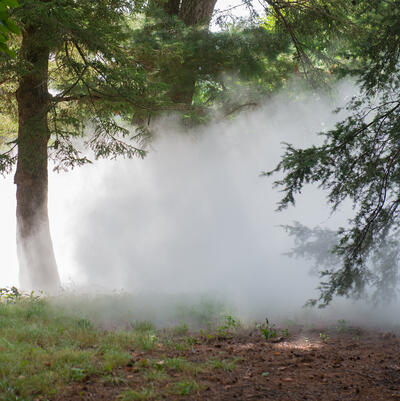 Fujiko Nakaya, Fog x FLO, The Emerald Necklace Conservancy
Fog x FLO, artist Fujiko Nakaya's installation on the Emerald Necklace earlier this year, enveloped the seven-mile long park in ephemeral, dynamic fog sculptures as part of one of the most innovative exhibitions we saw this year. Using clouds and mist to "make the invisible visible," each work responded to a certain element of the park system — from the Back Bay Fens to Franklin Park — transforming the landscape with totally unique sensory experiences. The fog sculptures were created in response to the landmarked waterways and landscapes designed by Frederick Law Olmsted (FLO), and Nakaya's "climate responsive" shape-shifting, pure water forms invited visitors to immerse themselves in the art, experience nature anew, and appreciate the vital role of the Emerald Necklace in our city's history, present, and future.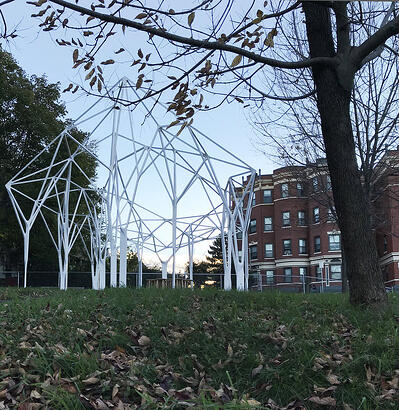 Cynthia Gunadi and Joel Lamere, Lost House, Now + There in Dorchester
Lost House converted a vacant city-owned lot at 405 Washington Street in Dorchester's Four Corners neighborhood into a communal place that honors the site's forgotten domestic histories. It explores the ever-changing nature of the built environment — what remains or is erased over time, and what future possibilities may be. The project sits at the site of a former house that had several owners and was ultimately foreclosed and demolished in the 1970s. The installation consists of an open, filigreed structure and a communal bench, an object that stands alone but grows richer through the narrative of its site.
Liz Glynn, Open House, Now + There on the Commonwealth Avenue Mall
An installation created by Los Angeles-based, Boston-born artist Liz Glynn, Open House was organized for the Commonwealth Avenue Mall by Now + There. Originally commissioned by the Public Art Fund in cooperation with the artist and Paula Cooper Gallery, Open House was first presented at Doris C. Freedman Plaza in Central Park, New York. This new installment of Open House transformed the Commonwealth Avenue Mall in Kenmore Square into an open air ruin of a ballroom. In this contemporary re-imagining of a historically exclusive space, Glynn addresses the evolving face of a city: who has access to space in a society that is increasingly divided along socio-economic lines? And how can we use history to shape a different future?
Lynn Lights, Beyond Walls, Lynn
The overhead rail line that transects downtown Lynn serves as a vital commuter rail connection for the North Shore to Boston. In 2018, Beyond Walls assembled a team of partners and worked to brighten and activate the underside of the shadowy overpasses with dynamic LED lighting installations. The Underpasses of Central Square, Washington Street, and Market Street now have an exciting and visually compelling field of dynamic and color changing full-spectrum lighting that not only delights the eye, but contribute to pedestrian safety along the undersides of this public infrastructure.